A flexible solution with style
American barns with style
American Barn design finds its history in the rural regions of the USA. These designs have been developed from that long history meaning that the maximum potential has been achieved.
SBS Beaudesert specializes in the design and construction of American barns and can offer you a wide range of designs or even custom design one just for you.
A shed or garage from SBS Beaudesert is the perfect addition to any Australian home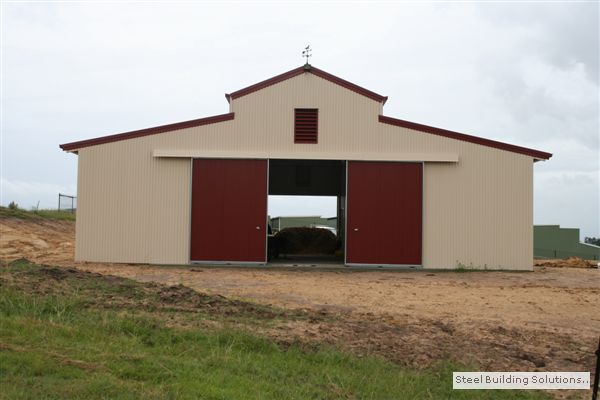 American Barns offer versitile options
American Barns start at 9m wide. Both the length and width can be expanded to suit your needs. Heights for either the middle section or side lean-tos can also be altered.
For an inexpensive solution to style, look no further than the American Barn. American Barns are extremely versatile and are often utilized as workshops, horse stables, boat sheds, car garages, for housing caravans, storage rooms and games rooms to name a few. etc…
Add flexibility to your design
Making your barn stand out is easily achieved with windows and glass sliding doors. Fly screens, security screens and window locks are also available.
By choosing various options you can customize your American Barn
Roof Pitch
American Barns have a regulation roof pitch of 22° but a mansard roof is also a great look.
Mansard Style Roofing
When making use of the "Mansard" style of roof you add flexibility in design allowing you to fit in with the current design of your home or simply make better use of the available space .
SBS Buildings are Designed to meet Appropriate Australian Standards.